Marketplace websites such as Etsy, Artfire, Meylah, and Society 6 are awesome for handmade and artisan businesses. Mainly because they are the fastest shops to set up and there's already a huge gathering of buyers and sellers there.
From the sellers' perspective, sites like Etsy can be a great place to start– and test– a business with minimal commitment. See if your business concept is one that attracts people. Try out different pricing. Gather information about what does or doesn't sell.
Further, sites like Etsy can be incredible marketing channels. Driving traffic is a major hardship for most new businesses, but Etsy already gets tons of it.
That's not to say you get the benefit of Etsy's traffic without any work at all. You need to be selling something that stands out in the crowd, you need to know how to use keywords, and be able to jump on seasonal trends– since catering to the time of year or pop culture trends will help snag e-mail and front page features.
At least all of the conventional advice says that if you manage to do the above you'll see success through the site.
1. Why Using Etsy Exclusively is A Mistake
But here's the thing.
I did some research on the featured sellers from the Etsy blog's "Quit Your Day Job" posts— the ones that highlight all of Etsy's most successful sellers.
One by one, I started checking them out, asking lots of questions like: How much $$$ is their average sale? How many sales did they make in the last year? How much money does that add up to? (And what kind of profit might be left after basic costs?) What is this seller doing that most others are not?
Sure, this wasn't anything close to an exact science. But after putting some time into it, I felt confident enough to draw these conclusions about these Etsy superstars and their respective shops:
Though the amount of money was usually significant, many of these Etsy sellers (who are described as having quit their day job) were not making anything close to a living wage from their Etsy sales alone.
Every featured seller had some form of social media presence helping to drive sales.
Every successful seller profiled owned their own website in addition to their Etsy storefront.
So… in a nutshell, the biggest secret of Etsy's elite seemed to be that they went beyond the Etsy "walls."
2. The Non-Negotiable, Controlled-By-You Website
The most important takeaway from this is that every serious Etsy seller has their own website.
Turns out, whether it's made of up of just a few "about us" pages, a blog, or a full-featured e-commerce store of its own, having your own website in addition to your Etsy shop is key to escaping amateur-ville and becoming a real player.
There are many huge reasons for this beyond the now-obvious "All the cool kids are doing it!" And most of them have to do with simply taking your business seriously enough to think about its future:
many entirely well-intentioned sellers have had their Etsy shops shut down, without warning or explanation. Having your own website is insurance that your best customers will be able to find you again, even in the chance that your Etsy shop goes MIA.
Having your own website allows you to build up your SEO (search engine optimization) cred now, so that it will pay off later if/when you decide to move your store away from Etsy or expand into your own e-commerce store. Printing your "your-company-name.com" web address onto all of your marketing materials and generally training potential customers to find you there first is key to this.
Journalists and their publications take businesses more seriously when they have their own site. Therefore, you're open to more opportunities for exposure. Not to mention, with your own website at your command, you can carefully craft a "Media" or "Press" page full of all the juicy deets about you, your product, as well as some gorgeous high-res images, to make your business all the more press-ready.
See a shop with a fiercely loyal following, and I'll show you an e-mail list. Unfortunately, Etsy doesn't accommodate the sort of opt-in box you need to collect e-mail addresses from customers in a straight-forward, legal way, so you can't easily continue contact with them in the future and win their repeat business. Having your own website means you can use opt-in forms wherever and whenever you like.
Finally, by having your own site, you're showing contacts you meet in-person and on social media that you are your own brand– not just a minuscule drop in the bucket of Etsy. And from a psychological perspective, that means they're more likely to remember you and view your goods as high-value.
3. A Fast and Easy "Cheat"
It used to be impossibly difficult to have "the best of both worlds." That is, an Etsy seller could easily get a simple "about the company" website that links to their Etsy shop. But there wasn't a way for them to have both an Etsy store and their own website store without putting in a ton of work.
Today, there is one very easy option that I know of.
First, get yourself a pretty blog website by signing up with Bluehost (the no-bells-and-whistles plan), then taking advantage of their 1-click WordPress install.
Second, get the Etsy 360 WordPress plugin. This will quickly stream your entire Etsy shop onto your site, automatically creating individual product pages and everything.
Here's a quick graphic to better explain what this plugin does: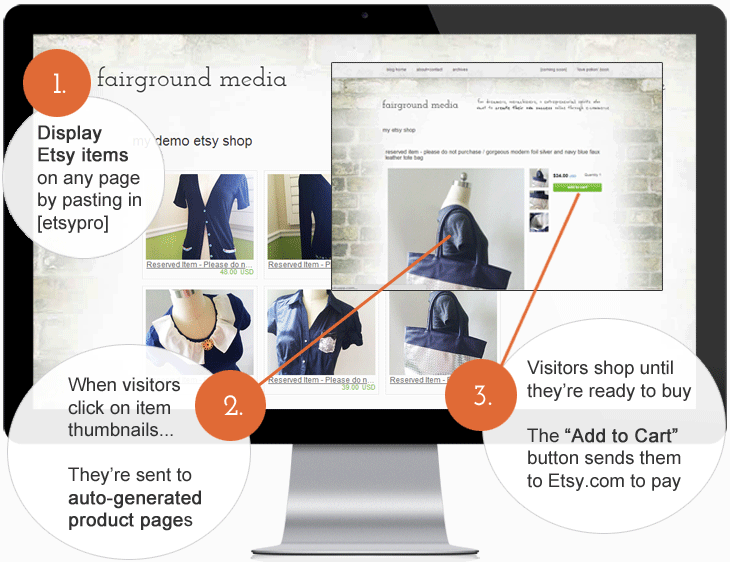 It's extremely easy to set up, maintain, and it's very inexpensive as well. You can learn more about it here.
4. Conclusion
If an Etsy business is the right fit for you, follow the pros' lead and get yourself hooked up with your own "your-company-name.com" website in addition to your shop. Even if it's just something simple for the time being.
To explore other ecommerce options beyond Etsy, I suggest you simply head on over to The Ultimate Ecommerce Platform Comparison.
Photo credit: Helga Weber / Flickr
This post contains affiliate links. Rest assured, though, that I don't recommend any companies that I haven't used and experienced for myself.